Notice: ALL out-of-state Buyers paying by check must have a Letter Of Credit on file or Letter of Reference from their bank to receive a bid number


Like us on facebook!
Questions?
Click Here
3 Sales in One Day
(Read the Difference)
Letter Of Credit Form
EMAIL to info [at] sdhorsesales [dot] com or bring on sale day.
(Required for NEW out of State Buyers)

We DO NOT allow horse trading on the premises or
people selling dishonest horses. We want to deal
only with good people.
=====================
South Dakota's No. 1 Horse Sale Market where honesty & integrity is the name of the game.
Our Long time Reputation & Volume sale bring in all the Top Buyers in the Country assuring you Top Dollars for your horses. We now celebrate 33 years in the horse sale business!
======================
| | |
| --- | --- |
| | LICENSED AND BONDED LIVESTOCK AUCTION MARKET OPERATING UNDER THE USDA PACKERS AND STOCKYARDS ADMINISTRATION. |
| | We sell quality, good, honest horses for your inspection and purchase. |
| | You'll be impressed by both the horses and the sale management |
| | Nation-wide event with repeat consignors and buyers from across the USA. |
| | All catalog horses are guaranteed sound by their owner unless called in the ring or noted in the comments. |
| | Ideal central location to both ranch/rodeo country and populated show and trail riding states. |
GOOD NEWS!
JUNE 6 SALE CATALOG IS HERE! Read Now
ANOTHER UPDATE to Consignments to Catalog: READ (updated 5/30)

Still taking consignments to catalogue (videos welcome)
Email info [at] sdhorsesales [dot] com to Sign up for Horse Sale News
and notice when catalogue is posted
Sale Day Schedule:

Loose Horse Sale –10 AM to 1:00 PM
Rope Cattle (if consigned) – 1:00 PM
Used Saddles - 1:00 PM
Preview in indoor arena – Noon
Open Consignment Sale for Ride/Lead ins: 1:30 PM

Checks available sale day as per USDA Rules & Regulations (for loose and open consignment horses)

Open Consignment sale

Email us your horses information to info [at] sdhorsesales [dot] com & we will reserve a earlier selling turn in the Open Consignment Sale for you. However, consignments are accepted thru out the sale.

UPCOMING CATALOGUE SALE!
Saturday June 6

EXPECTING 250 HEAD
Loose Horse Delivery Hours: Saturday, 8 AM to 12:30 PM
(Friday delivery hours: 1:00 to 6:00 PM)
Note – Loose Horses are sold in order delivered to the yards – unload WEST end on sale day AND on EAST end of yards on Friday.
Thank you for your business. We try to please and want happy customers when leaving the premises. Honesty is the name of the game at our sale in Corsica!!!!
Welcome to South Dakota Horse Sales!
from Cleone Uecker, President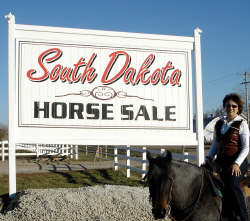 South Dakota Horse Sales is one of the largest and most reputable horse sale markets in the USA --specializing in the sale of fine horses!
Thank you to the many folks that compliment our sales and go home and recommend us to their friends and neighbors. Word-of-mouth is our best and cheapest advertising and we sure appreciate it!
Just like a major airport terminal, we consider South Dakota Horse Sales a major horse terminal, where buyers and sellers alike gather from across the United States to exchange horses. The only difference is the horses never know exactly which (flight) horse trailer they'll be leaving on or which state they'll be headed for when they leave. It's really rare to see someone bring a horse to sell and leave with an empty trailer--sellers are buyers as much as buyers are sellers.
Thanks again, and see you at the sale! -Cleone