Notice: ALL out-of-state Buyers paying by check must have a Letter Of Credit on file or Letter of Reference from their bank to receive a bid number
Letter Of Credit Form
Fax to new number 605-996-1913!
(Required for NEW out of State Buyers)
August Sale Report (click here)
PLEASE EMAIL QUESTIONS to

Cleone Uecker
horses@sdhorsesales.com

or TEXT us at
605-770-5813
(phone lines are very busy)
We DO NOT allow horse trading on the premises or
people selling dishonest horses. We want to deal
only with good people.

Oct sale catalogue deadline Sept. 27rd Only $50 catalogue fee –Click!
WANTED! Rope and Barrel Horses for out October 15 Sale. Bid demand from our Buyers
Fresh rope cattle for preview. All horses Preview 11:30 AM
Congratulations McGregor Livestock
Salem, SD

August 20 Top Sale Horse - $3400!

Lot 15, Handsome Roan King, is a 10-yr old good looking, gentle well broke AQHA gelding. He has been used sorting & working cattle and sold to Keith Hauck, Forbes, North Dakota.

RESERVE TOP SALE HORSE - $3,000
Consigned by Schultes Ranch, Howes, SD

The August 20 Reserve top sale horse was Lot 39, Genuine Frosty Twist. This big stout red roan 12-year old AQHA horse is a outstanding ranch horse that kids can ride. He is also a finished Head and Heel horse and sold to a Iowa Buyer.

Top Miniature Horse

Broke to both ride and drive this cute Miniature horse was consigned by H. Troyer, NE & sold for $950 to M. Donvito, SD
Sale Day Schedule:
Loose Horse Sale – 9:00 AM to 1:00 PM
Rope Cattle (if consigned) – 1:30 PM
Open Jack Pot Team Roping – 10 AM
Preview In indoor area – 11:30 AM
Catalogue Sale – 2:00 PM (Approximately)
Open Consignment Sale – 5:00 PM (Approximate)
Notice – Ride in Horses accepted thru sale day.
Loose Horses sold in order delivered to yards--no preconsigning.
TEXT Cleone Uecker, President at 605-770-5813.
OPEN CONSIGNMENT SALE - Ride In and Lead in Horses will sell in the order we receive the information. CONSIGN NOW for earlier selling turn. E-mail horses@sdhorsesales.com
LOOSE HORSE DELIVERY HOURS – Friday Noon to 7 PM AND Saturday 8 AM to Noon.
Note – Loose Horses are sold in order delivered to the yards – un load West End.
Checks available sale day.
Email us at horses@SDHorseSales.Com to be added to our Horse Sale News emails or for questions.

Our Long time Reputation & Volume sale bring in all the Top Buyers in the Country assuring you Top Dollars for your horses. We now celebrate 33 years in the horse sale business!
South Dakota's No. 1 Horse Sale Market where honesty & integrity is the name of the game.
E-mail us at Horses@SDHorseSales.Com
Phone: Cleone's cell: 605-770-5813
Notice: ALL out-of-state Buyers paying by check must have a Letter Of Credit on file or Letter of Reference from their bank to receive a bid number.
Welcome to South Dakota Horse Sales!
from Cleone Uecker, President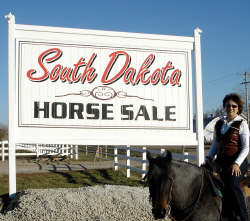 South Dakota Horse Sales is one of the largest and most reputable horse sale markets in the USA --specializing in the sale of fine horses!
Thank you to the many folks that compliment our sales and go home and recommend us to their friends and neighbors. Word-of-mouth is our best and cheapest advertising and we sure appreciate it!
Just like a major airport terminal, we consider South Dakota Horse Sales a major horse terminal, where buyers and sellers alike gather from across the United States to exchange horses. The only difference is the horses never know exactly which (flight) horse trailer they'll be leaving on or which state they'll be headed for when they leave. It's really rare to see someone bring a horse to sell and leave with an empty trailer--sellers are buyers as much as buyers are sellers.
Thanks again, and see you at the sale! -Cleone