Letter Of Credit Form
(NEW out of State Buyers)
Notice: ALL out-of-state Buyers paying by check must have a Letter Of Credit on file or Letter of Reference from their bank to receive a bid number
GPS location?
38994 273rd St.
Corsica, SD
For Motel rooms call Corsica Inn 605-946-5230
NOTICE Customers- due to the winter storm that moved in for our November 15 horse sale, forcing many of both Buyers and Sellers unable to get here, We are tentatively setting December 13 as next LOOSE Horse, weather permitting. Keep checking back as we watch the 7-day foreast.
This will be a Regular and LOOSE SALE only - NO catalogue sale. We will be watching the 7-day forecast before we set the exact sale date. Like to get a notice of this upcoming sale?
Click here & send us your email address: horses@SDhorsesales.com
November Horse Report (click)
Congratulations!
Mitch Murray,
Lawler, Iowa

Sells November 15 Top Sale Horse at South Dakota Horse Sales, Corsica, SD

for $4400!

Lot 10, SB Roosters Buck is a gentle, well bred, well broke and well balanced, good looking, 7-yr old buckskin AQHA gelding. He sold to KC Kolander, Minnesota for $4400.

November 15 Reserve Top Sale Horse at South Dakota Horse Sales, Corsica, SD

Sells for $4,000!

Todd Ayers, Webb, Iowa, sells Lot 3, Startime Poco Doc a 14-yr old AQHA gelding for $4,000 to claim Reserve top sale horse honors. This extra gentle gelding was shown in both heading and healing in the sale preview and a pleasure for anyone to ride. He sold to Daryl Duba, Pukwana, SD

Need Express Delivery of Your Horses?
LOOSE HORSES - sell prior to each sale - from 10 am – 1:30 pm. 7% Commission ($30 minimum). 200 - 250 Head each sale sold in the order delivered to the yards.. Always a full house of buyers on the seats during loose horse sale.
Horses accepted to the yards afternoon prior to the sale & on sale day from 1 PM to 7 PM. Bring them in at your convenience. Good feed and water available. Our experienced check in sale staff will handle the paper work at check in & the sale of your horses on sale day. Loose horses sold in order delivered to the yards.

Our Long time Reputation & Volume sale bring in all the Top Buyers in the Country assuring you Top Dollars for your horses. We now celebrate 33 years in the horse sale business!
South Dakota's No. 1 Horse Sale Market where honesty & integrity is the name of the game.
E-mail us at Horses@SDHorseSales.Com
Phone: Cleone's cell: 605-770-5813
Notice: ALL out-of-state Buyers paying by check must have a Letter Of Credit on file or Letter of Reference from their bank to receive a bid number.
Welcome to South Dakota Horse Sales!
from Cleone Uecker, President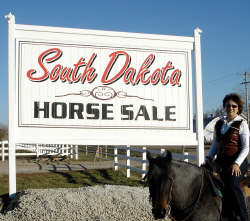 South Dakota Horse Sales is one of the largest and most reputable horse sale markets in the USA --specializing in the sale of fine horses! 250 to 650 outstanding horses sold each month!
Thank you to the many folks that compliment our sales and go home and recommend us to their friends and neighbors. Word-of-mouth is our best and cheapest advertising and we sure appreciate it!
Just like a major airport terminal, we consider South Dakota Horse Sales a major horse terminal, where buyers and sellers alike gather each month from across the United States to exchange horses. The only difference is the horses never know exactly which (flight) horse trailer they'll be leaving on or which state they'll be headed for when they leave. It's really rare to see someone bring a horse to sell and leave with an empty trailer--sellers are buyers as much as buyers are sellers.
Thanks again, and see you at the sale! -Cleone