Emails welcome! horses@sdhorsesales.com
GPS location?
38994 273rd St.
Corsica, SD
Letter Of Credit Form
(NEW out of State Buyers)
Notice: ALL out-of-state Buyers paying by check must have a Letter Of Credit on file or Letter of Reference from their bank to receive a bid number
- NOTICE -
Loose Horse Delivery Hours:
Friday - 4 PM - 7 PM
Saturday - 8 AM - 1 PM
For Motel rooms call Corsica Inn 605-946-5230

Featuring All Classes
Catalogue Deadline – July 30th (click for consignment form)
NOTE - summer sale time schedule
Loose Horse Sale - 11 am to 2 PM (sold in order delivered to yards)
Catalogue Sale 2:30 PM to 5 PM (Preview 1 PM)
Non-Catalogue Sale 5PM - Reserve a selling turn in the sale by emailing your information to horses@sdhorsesales.com
Loose horses can be delivered to the yards the day before the sale from 4 PM to 7 PM. AND on sale day from 9 AM to 1 PM.
Open Jack Pot Team Roping- 10 AM in indoor arena
PLEASE EMAIL QUESTIONS to horses@sdhorsesales.com
(phone lines are very busy)
Congratulations Kerrie Winkelbauer, Randolph, Neb.
Sells June 7 Top Sale horse $4500!
| | |
| --- | --- |
| | Dude, Lot 43, is a grade 14-year old, palomino gelding that got lots of active bidding. Dude came to the sale pretty as a picture and is safe & broke the very best for beginner to old to ride. Just the right size for the shorter person, his 4-year old rider, after winning a few ribbons at a horse show on Dude just a days before the sale, did super job of presenting Dude to the many prospective Buyers wanting to take him home. |

Our Long time Reputation & Volume sale bring in all the Top Buyers in the Country assuring you Top Dollars for your horses. We now celebrate 33 years in the horse sale business!
South Dakota's No. 1 Horse Sale Market where honesty & integrity is the name of the game.
E-mail us at Horses@SDHorseSales.Com
Phone: Cleone's cell: 605-770-5813
Notice: ALL out-of-state Buyers paying by check must have a Letter Of Credit on file or Letter of Reference from their bank to receive a bid number.
Welcome to South Dakota Horse Sales!
from Cleone Uecker, President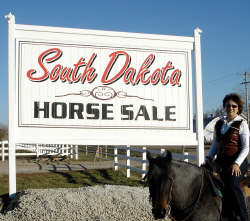 South Dakota Horse Sales is one of the largest and most reputable horse sale markets in the USA --specializing in the sale of fine horses! 250 to 650 outstanding horses sold each month!
Thank you to the many folks that compliment our sales and go home and recommend us to their friends and neighbors. Word-of-mouth is our best and cheapest advertising and we sure appreciate it!
Just like a major airport terminal, we consider South Dakota Horse Sales a major horse terminal, where buyers and sellers alike gather each month from across the United States to exchange horses. The only difference is the horses never know exactly which (flight) horse trailer they'll be leaving on or which state they'll be headed for when they leave. It's really rare to see someone bring a horse to sell and leave with an empty trailer--sellers are buyers as much as buyers are sellers.
Thanks again, and see you at the sale! -Cleone